In the first of our "Meet the Artist Series" we talk with Jonathan Naylor, one of the first artists to join MECA back in November 2018.
1). When did you first realize you wanted to become an artist?
At the Baltimore Museum of Art I saw a painting by Anselm Kiefer that must have been twenty feet long and ten feet tall. I was a child, under the gaze of something almost living up there, stretched across the white. It was a dark, grungy piece that took up the entire wall of this cavernous hall. It was all alone in there. There was something so daunting about even approaching the painting that I was hesitant to get nearer. This wasn't the work of any artist in my eyes, but a sorcerer.
I'd never considered that a piece of art – let alone aa simple painting – could actually have the power to physically arrest somebody in that way. This was certainly an early ember that has kept my fascination with Art's emotional force alive.
2). What inspires your art?
People naturally have an aversion to discomfort, yet it follows us in nearly every aspect of our lives - in some way or another. Artists often want to make the viewer more comfortable; but much like a hot bath, I'm more interested in initial recoil and long pause before some intellectual acceptance. There's a moment of awe that happens when you let a gritty piece in. It's the fear of being vulnerable in front of raw art that drives me to make something worthy of exfoliating even the most trepid viewer.
3). Have any particular artists influenced your style?
It's a tangled mess of artists and unsung creatives that influence my style. But, Robert Rauschenberg, Cy Twombly, Anselm Kiefer, John Cage and Helen Frankenthaler would all be invited to my place for New Years.
4). Your paintings use multiple materials to create effect, abstract quality. How do you approach the topics of your pieces?
We tend to use benign imagery to unpackage the most complex emotions. Maybe some primary colors to help illustrate primary ideas. Red as anger for instance. But where is there a color for existential angst? Why can't this be represented by a bundle of sheep's wool, stained with inks and painty water? Doesn't that knotted disaster sound like it fits fear and anxiety better than… just a different brushstroke in a new color? I try to delve far deeper into the mind and what may be hiding, even in myself, trying to pry it out in a sort of visual catharsis. For this, I need more than a color wheel.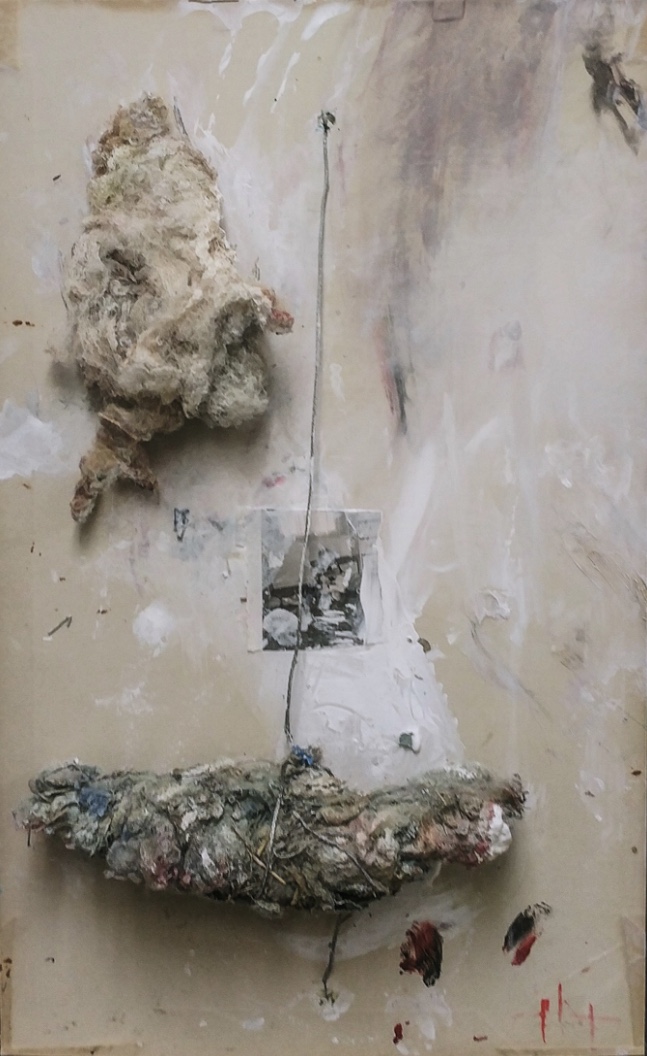 Jonathan Naylor - For Cy - Mixed Medium Collage - 19 X 12 IN

5). Some of your art explores religious artifacts. What's the biggest challenge when you're working with this as a medium?
Not over-doing it. Undoubtedly, any artist may be seen as a provocateur with their use of bible pages or the like, but I'm in no hurry to be controversial simply for the sake of it. My work asks the viewer "what does it mean to be human" with various prompts and cues, some of which include items many would consider sacrosanct.
In placing these items in my art, I want to allow them their time to prompt or provoke an onlooker, without dominating the piece as though the composition were solely about religious commentary.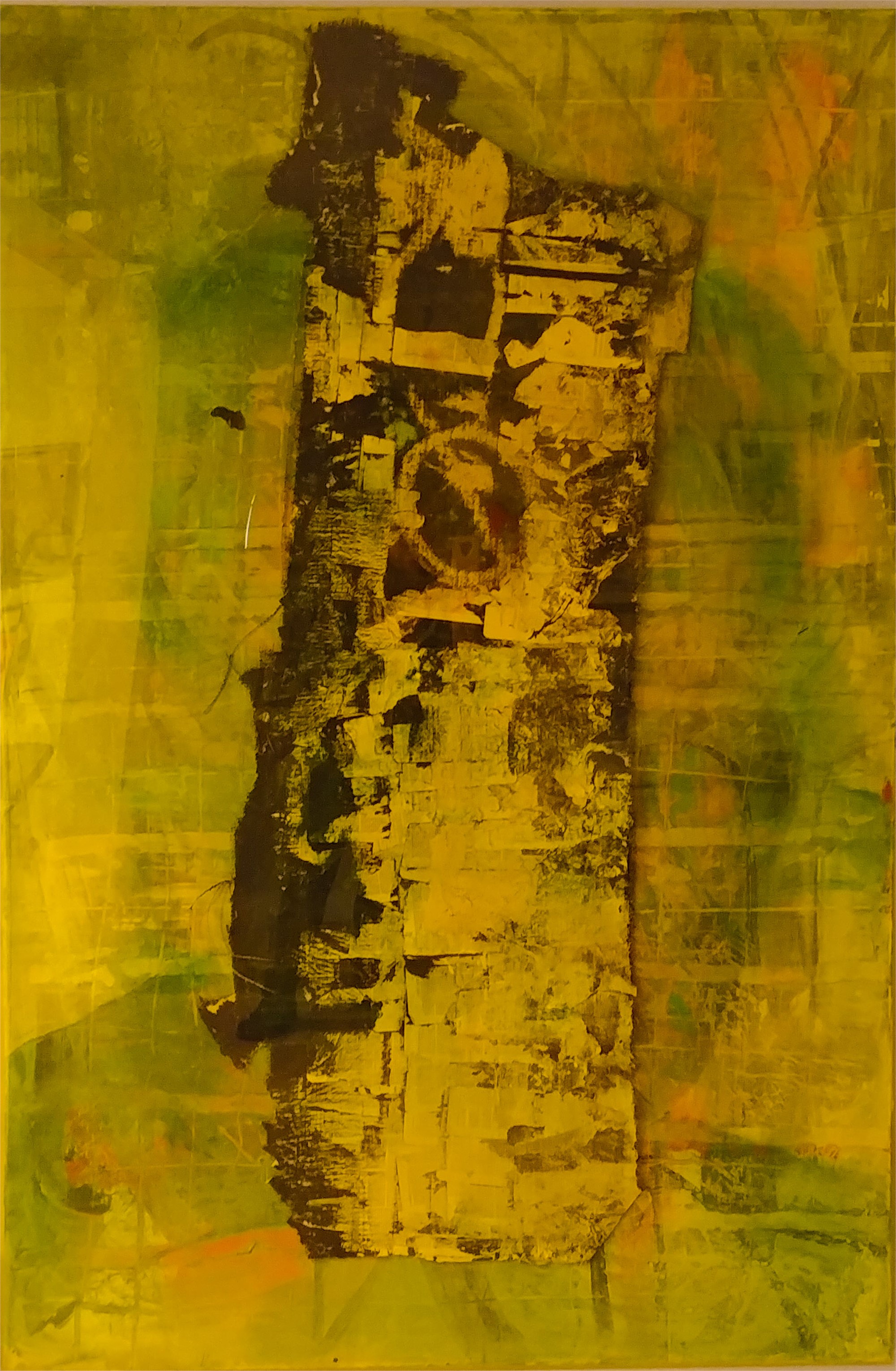 Jonathan Naylor - Runner - Mixed Medium 72 X 48 IN

6). Many of your pieces are formidable in size, what makes you choose this way to express your art?
I want a work of art to swallow me in its scale so that I can feel small under whatever meaning I feel pouring out of the piece. We can often look introspectively with much clearer eyes when our egos are reduced by something of significant physical magnitude. It's the same reason we stare at the stars. Where I cannot at the moment find myself with thirty feet of canvas to work on, I can try and provide that immersive experience for a viewer with a painting large enough to have a noticeable presence in the room.
Jonathan Naylor - Coyote and Coyote - Acrylic and Mixed Media - 72x60in
7). In your studio, do you have a favorite art supply? A particular paint or a tool that you find yourself returning to again and again?

There's a corkscrew that gets regular usage at my studio.
8). What do you want collectors to take away from your art?
Being fearless doesn't mean not being afraid. It only means one doesn't yield to adversity. Anyone who puts one of my paintings on their walls clearly understands that.
9). What do you enjoy doing when you're not painting?

There are only a few things that can't be accomplished at a dinner table with good food, drink and friends. And I don't need to do those things.
10). Do you have a favorite color?
White. It seems to go with anything.